PhD Scholarship Programme for African Theological Educators
About Wesley House, Cambridge
www.wesley.cam.ac.uk
Wesley House is a centre for global theological education and research in the Wesleyan tradition.  We have resident students in Cambridge from all over the world and engage in education and training in partnership with theological institutions in Africa, Hong Kong, the USA and the UK.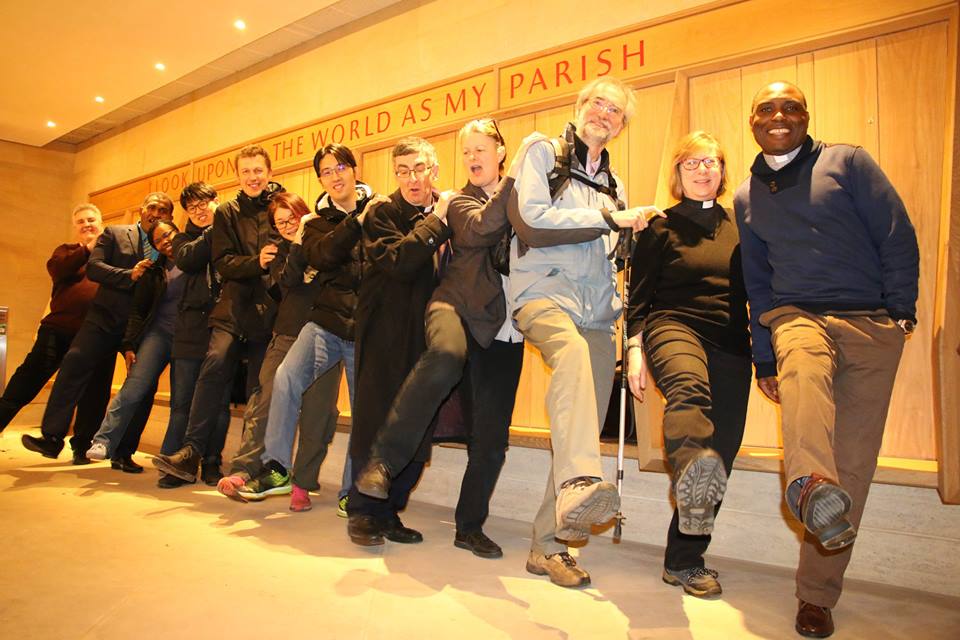 Pictured: A-Z: students at Wesley House from Australia, Fiji, Kenya, Korea, Latvia, Singapore, Taiwan, the UK, the USA and Zambia gather for dinner in March 2018.
Wesley House was founded as a Wesleyan Theological College in 1921 as a house of residence within the precincts of the University of Cambridge.  The college was established in Cambridge as a mission priority – in order to bring Methodist students and scholars to study in the world class university where they would learn to think at a deep level about the issues facing church and society alongside ecumenical colleagues.  The purpose was also to bring Methodist students into contact with those studying at the cutting edge not only of theology, but also of philosophy and science so that they would be able to engage with key questions about how to communicate Christian faith in the contemporary world.  The college was to be a house of prayer and formation for ministry and service as well as a place of study, combining the Wesleyan virtues of knowledge and vital piety, learning and growth in holiness.
Wesley House today continues these traditions through its community of prayer and scholarship in Cambridge; through its academic relationships with the University of Cambridge and with Anglia Ruskin University and the Cambridge Theological Federation; it now also works with cohorts of students in other parts of the world through partnerships with Wesley Theological Seminary in Washington DC, Africa University, Zimbabwe and Seth Mokitimi Methodist Seminary in South Africa and publishes the free international journal, Holiness (www.wesley.cam.ac.uk/holiness).
The oldest alumnus of Wesley House is The Revd John Stanfield, now in his nineties.  His missionary family (to China and to various parts of Africa) is commemorated in the new academic building. He says, 'Wesley House is doing its job when people come from all over the world to study with some of the greatest minds in the world and then get to work in some of the poorest parts of the world.'
To support the global work of Wesley House visit www.wesley.cam.ac.uk/support-us or ring Mr Alastair Oatey on 00 44 (0)1223 765850.
Download the recruitment pack (pdf)
Download the application form (word doc)