Vision
Our vision is to resource visiting scholars, associate faculty and registered students for a thoughtful and transformative influence in the churches and cultures from which they come, whether as theological educators or as visionary church leaders or by collaboratively developing theological responses to the problems facing our world.
This is a continuation of our founder, Michael Gutteridge's original vision who believed that the Wesleyan Church needed:
an educated ministry to match standards of education in general and so be effective in apologetics and mission;
a ministry engaged with the big scientific, social and ethical questions of the day that can make a contribution to the shaping of society;
a leadership formed where other Christian leaders are in formation and where they might become colleagues and friends; and
a leadership formed in Christian community with the love of God and of neighbour at its heart.
Community Life
Community life revolves around daily prayers in the College Chapel and a weekly shared meal and seminar for the whole community. We work primarily at post-graduate level, encouraging research activities that reflect the vision of Michael Gutteridge, our founder, for an informed Wesleyan contribution to church and society.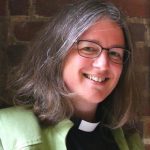 The community is led by our Principal, The Revd Dr Jane Leach who has been in post since 2011. She says:  "Inspired by John and Charles Wesley, I hope that those who have spent time studying at Wesley House will be known as people of memory and imagination who are open to God's transforming power and who seek to offer that power to others in worship, evangelism and social transformation; who have confidence, commitment and skill in communicating the gospel in their context and yet are hospitable to people of other traditions and are willing to learn from them; who have the patience to study carefully and think rigorously as well as the vision to speak prophetically and lead courageously on issues of public and lasting importance."