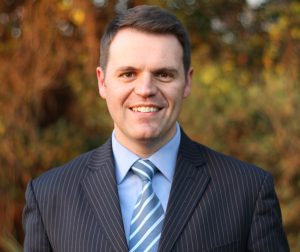 Dion A. Forster is professor of Systematic Theology and Ethics at the University of Stellenbosch, South Africa. He serves as the Chair of the Department of Systematic Theology and Ecclesiology, and as the Director of the Beyers Naudé Centre for Public Theology. He also heads the research unit for Innovation and Transformation.
Dion is an ordained minister in the Methodist Church of Southern Africa and was the Dean of the former seminary of the Methodist Church of Southern Africa, John Wesley College (2002-2008).
He holds two PhD's – a PhD in Systematic Theology (SA, 2006), and a PhD in New Testament studies (Radboud, 2017), and is a National Research Foundation rated Researcher. He is the author 7 books, 6 edited volumes, and numerous scholarly articles in journals such as, The Epworth Review, The Methodist Review, Black Theology, Oxford Journal of Church and State, Journal of Empirical Theology, Theology, Journal of Theology of Southern, and the Stellenbosch Theological Journal. He serves as a director on the Wesley Works board, and as an editor for The International Journal for Public Theology, The Methodist Review, and Wesley and Methodist Studies. In 2008 he delivered one of the Hugh Price Hughes lectures, and in 2018 he delivered the Fernley Hartley Trust Lecture at the 30th Oxford Institute for Methodist Theological Studies. Dion has been a visiting professor at Duke Divinity School (2005), STM Seminary, Malaysia (2007),  Radboud University (2017), the Humboldt University of Berlin (2018-2019), the University of Gothenburg (2019), and Sárospatak Theological Institute, Hungary (2019). As a public theologian, he serves as a member of the Expert Network for the World Economic Forum, and as a Fellow of the Allan Gray Centre for Values Based Leadership at the University of Cape Town's Graduate School of Business.
In 2017 he received a Stellenbosch University Distinguished Teacher award, and his research on the 'Politics of Forgiveness' was featured for research excellence in the same year. His most recent books are, The (im)possibility of forgiveness? (Wipf & Stock, 2019), and Religious Freedom at Stake (edited with Göran Gunner and Elisabeth Gerle, Pickwick, 2019). You can find more of his work here: www.researchgate.net/profile/Dion_Forster
Dion has visited Wesley House on numerous occasions since 2002 and has longstanding friendships with a number of Wesley House's staff and students. He has taught on the Joint Doctor of Ministry Program with Wesley House and Wesley Theological Seminary (2017). He is deeply committed to global Methodist scholarship, and has a particular interest in African Methodism, and decolonizing Methodist theologies. He is very grateful to be associated with the wonderful work, and people, of this scholarly community.