Adam Ployd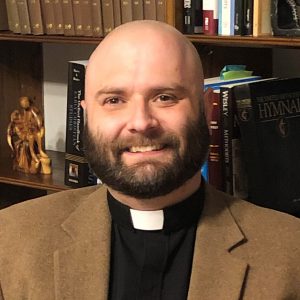 Wesley House Cambridge is pleased to announce the appointment of the Revd Dr Adam Ployd to the post of Vice Principal.
Alongside teaching and supervising research students his key responsibilities at Wesley House will include developing the work of our Centre for Leadership and Ministry Development and co-ordinating the growing MA programme in Chaplaincy and Pastoral Care.
The Principal of Wesley House, the Revd Dr Jane Leach said of the appointment:
"We are delighted that Dr Ployd will be joining us as Vice Principal. He is a serious scholar and an experienced theological educator who brings expertise in teaching, curriculum development and programme management to the role.  His interests in both historical and practical theology will enrich our teaching; his work on preaching and Christian education will help strengthen our Centre and we look forward to his leadership of both the residential and remote aspects of our worshipping and community life."
Adam is ordained deacon in the United Methodist Church.  He comes to Wesley House from Eden Theological Seminary in St Louis where he has been teaching theology since 2013. He brings experience in successfully supervising research students in a range of topics that combine his historical interests with present concerns such as, "The Pedagogy of Clement: A Model for Teaching Youth in the Reformed Church of East Africa," and that address topics in Christian leadership such as "Mentoring & Modelling: A Relational Approach for Becoming a Clinical Pastoral Education Educator".  Adam has supervised students from a range of global contexts including from Kenya, India, South Korea and the United States.
Adam has a PhD from Emory University.  In 2015 Oxford University Press published his Augustine, the Trinity, and the Church: A Reading of the Anti-Donatist Sermons.  He has three further books on Augustine under contract.  In 2020 he guest edited the Journal of Ecumenical Studies, Special Issue: "Racialized Violence and the Churches' Responsibility," 55, no. 1 (2020)
Speaking from the United States about the move to Cambridge, Adam said:
"I am thrilled to be joining the community and work of Wesley House, and my family is excited to begin life in the UK this summer. For a United Methodist, moving to the land of John Wesley feels like coming home. While I look to the past for inspiration, when I look to the future of theological education I see Wesley House leading the way. It is a great honour to be part of that vision."
Adam and his wife and young son will be joining the Wesley House community. Revd Diane Kenaston is ordained elder in The United Methodist Church and has served churches in West Virginia and Missouri for the past ten years. Two-year-old Isaac is a passionate helper (dishes, recycling, laundry) who is looking forward to developing a British accent. The family believes this is the perfect time in their life for the adventure of moving to Cambridge.
Since 1921 Wesley House Cambridge has been a community of Methodist and Wesleyan scholars and students and an approved House of Residence of the University of Cambridge. It was a founding member of the Cambridge Theological Federation nearly 50 years ago, and is one of the eleven Leadership, Education and Development Hubs of the General Board of Higher Education and Ministry of the United Methodist Church.  In 2021-22 Wesley House celebrates its centenary year.
For more information contact:
The Revd Dr Jane Leach
Principal of Wesley House
Email: jl332@cam.ac.uk
Phone 01223 765 830