Andrew Stobart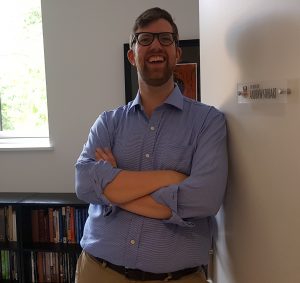 Before becoming Director of Research at Wesley House, Andrew spent eight years in Circuit Ministry in the British Methodist Church. He trained at the Wesley Study Centre, Durham, and served in the Darlington Circuit (2010-2018) as probationer, and then, latterly, as Superintendent. He is an ordained presbyter of the British Methodist Conference.
Andrew's first degree in theology came from the London School of Theology. Following this, he obtained a research MPhil and PhD in Divinity from the University of Aberdeen in the area of systematic theology, studying under the late Revd Prof John Webster. His doctoral research explored the role that understanding of Jesus' resurrection plays in the architecture of theology, with particular reference to the thought of Rowan Williams and Robert Jenson. Andrew's ministerial formation at Durham included the completion of an MA in Theology and Ministry.
Since 2016, Andrew has been Commissioning Editor of the Holiness Journal, published by Wesley House. He has also contributed to a number of introductory texts about the Bible and Christian theology.
Andrew's current research interest is the development of a genuinely global Wesleyan theology. A key aspect of this is the task of decolonising the Wesleyan tradition by interacting with theologians from the global Methodist family. His doctoral students are working in a number of areas of contextual theology, combining the disciplines of rigorous theological discourse with contextually significant themes and issues.
Andrew has been a speaker at the ECG Conference in Scarborough, UK (Easter 2017) and presented a keynote lecture at the inaugural UK Methodist Research Conference at St John's College, Durham, April 2016: 'Theology in Flight Mode: Thoughts on Jesus' Resurrection and the Theological Task'. He delivered a constructive paper entitled 'Grace-Filled Communication' at the Grace-Filled Leadership Conference at Cliff College in September 2015.
Andrew is married to Rebekah, a doctor, and together they have two young children.
Publications:
2017, Holiness 3.2 'What have the sermons of John Wesley ever done for us: Justification by Faith'
2012, Theology and Ministry: an online journal, Volume 1, 'Towards a model of Christian hope: developing Snyder's Hope Theory for Christian ministry'
2011, Knowing Jesus, Kindle e-book.
Contributions to edited works:
2018, The Bible Book, DK
2016, New Dictionary of Theology: Historical and Systematic, IVP.
2013, The Religions Book, DK
2012, The Illustrated Bible, DK.
2009, Collins Bible Companion, Harper Collins.
2005, Collins Bible Dictionary, Harper Collins.