Paul Chilcote
Wesley House Cambridge is pleased to announce the appointment of The Revd Dr Paul Chilcote as our Interim Director of Global Wesleyan Theology.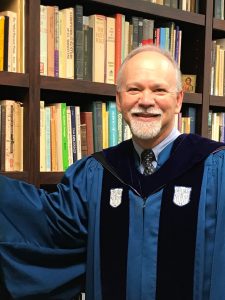 The Principal of Wesley House, the Revd Dr Jane Leach said of the appointment: "We are delighted that Paul is joining our core staff team and team of research supervisors.  Paul is an eminent Wesley scholar who is active in addressing urgent social, political and theological issues. He brings with his experience, expertise and wisdom that will enhance our work and the experience of our students."
Paul, an award-winning author and retired United Methodist historian and theologian, comes to Wesley House out of a career in theological education that spans the globe. He has taught at Wesley College (Bristol), St. Paul's United Theological College (Kenya), Duke Divinity School (North Carolina), and helped launch two new institutions – Africa University (Zimbabwe) and Asbury Theological Seminary (Florida). He served as Academic Dean and Professor of Historical Theology & Wesleyan Studies at Ashland Theological Seminary in Ohio.
Paul has a PhD in historical theology from Duke University where he completed a definitive study of women in early Methodism under the direction of Prof. Frank Baker. Author or editor of nearly thirty books, including Praying in the Wesleyan Spirit, Recapturing the Wesleys' Vision, A Faith That Sings, Making Disciples in a World Parish, Early Methodist Spirituality, and Singing the Faith, he is a frequent speaker and workshop leader in applied Wesleyan studies, particularly in the areas of theology, spirituality, and Christian discipleship.
Speaking from the United States about the move to Cambridge, Paul said: "I am so excited about this privilege to serve the Wesley House community at time such as this. I am particularly thrilled to be able to reconnect with Kenya and Zimbabwe through the partnerships of  the Centre for Global Wesleyan Theology, to participate in such a diverse community, to teach in the areas of my passion, and to provide guidance to doctoral students from around the world. As a person who deeply appreciates a global vision of the church and seeks to be God's servant in a world parish, I could not be more honored."
Paul and Janet are looking forward to spending a portion of each year in Cambridge, engaging in the ongoing life of the Wesley House community. Janet is also a retired United Methodist minister who currently serves on the staff of ZOE Empowers, a mission program of The United Methodist Church that enables orphans and vulnerable children in Africa and India to become self-sufficient. We look forward to welcoming them as soon as COVID-19 travel restrictions allow.