Richard Clutterbuck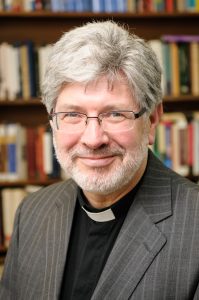 The Revd Dr Richard Clutterbuck is a Research Fellow.
Richard Clutterbuck is a presbyter of the Methodist Church in Britain with a wide range of experience in pastoral ministry and theological education. He has served a number of theological training institutions, in Oceania, Britain and Ireland – most recently as principal of Edgehill Theological College, Belfast. His post-graduate study was in ecumenical theology (Irish School of Ecumenics) and the place of doctrine in modern theology (University of Birmingham).
Recent publications include:
"Theology as interaction: ecumenism and the world church", Unmasking Methodist theology. Edited by Clive Marsh, New York and London, Continuum, 2004.
"Helpmate of a Self-sufficient God: the servanthood of Mary as obstacle or opportunity for the reconciliation of Christians – a dialogue with Karl Barth". Mary for Time and Eternity: Essays on Mary and Ecumenism, edited by William McCloughlin and Jill Pinnock, Gracewing, 2007
Handing On Christ: Rediscovering the Gift of Christian Doctrine, Epworth. Press, 2009
"How Great the Debt we Owe: Anselm's Cur Deus Homo and contemporary culture", Epworth Review (January 2009).
"Theological Education and the Search for Peace and Reconciliation in Ireland: the Experience of the Edgehill College Reconciliation Programme" in Building Communities of Reconciliation (Vol II), [nanumsa, 2012], ed. Richard Noake and Pauline Kollontai.
"Do we really need a doctrine of the atonement?" in Atonement as Gift: Re-Imagining the Cross for the Church and the World [Paternoster Press, 2014] , ed. Katie Heffelfinger and Patrick McGlinchey.
"Sisters under the skin: surprising connections between the Catholic dogma of the Immaculate conception of Mary and the Wesleyan doctrine of Christian perfection", One in Christ, Vol. 50, No 1, 2016, pp133-150.
"A Holiness Movement, Shaped by Mission: encountering God in Oceania", HOLINESS, The Journal of Wesley House Cambridge, www.wesley.cam.ac.uk/holiness, Volume 2 (2016) Issue 3 (Holiness & Contemporary Culture): pp. 379–391.
Numerous Book reviews in: Modern Believing, Theology, Journal of Ecclesiology, Epworth Review, Wesley and Methodist Studies.
Co-authored (with Diane Clutterbuck) notes for preachers on the weekly lectionary readings, published in The Methodist Newsletter (Ireland), 2013-16.
You can contact Richard on rnc31@cam.ac.uk.