Richard Davis Appointed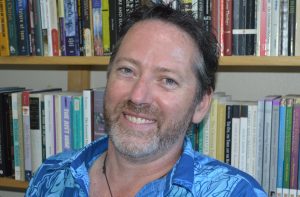 Wesley House Cambridge is pleased to announce the appointment of Dr Richard A. Davis to the new post of Director of Contextual Theology. His key responsibilities at Wesley House will include the supervision of research students engaged in qualitative research projects from across the world, and developing the work of our Centre for Faith in Public Life.
The Principal of Wesley House, the Revd Dr Jane Leach said of the appointment: "We are delighted that Dr Davis will be our first Director of Contextual Theology. He brings a wealth of experience in teaching and student supervision, and we are positive that he will serve our students and institution well. As we collaborate with global south partners in decolonising theology Dr Davis's expertise and experience will be invaluable assets for us."
Richard comes to Wesley House from the ecumenical Pacific Theological College (PTC) in Fiji where he has been teaching theology and ethics since 2014. He brings experience in successfully supervising research students from a variety of Pasifika countries who have engaged in qualitative research in their own contexts. Dealing with diverse groups of students of several cultures, ages, and genders has helped focus his theological work on practical and contextual needs.
Richard has a PhD in Public Theology from the University of Edinburgh and other degrees in theology, philosophy, and business studies. In 2019 he enjoyed research leave at the Center of Theological Inquiry in Princeton, USA, researching religion and violence. His current research interests include political theology, climate change, domestic violence, child poverty, and Christian spirituality.
Richard was baptised at the Waiwhetu Methodist Church in Lower Hutt, New Zealand and was raised in a strong Methodist family. He is now an (lay) Elder of the Presbyterian Church of Aotearoa New Zealand. Richard brings extensive experience working in the church, including four years with the Methodist Church of New Zealand leading national social justice ministry. He is a Senior Friend of the Student Christian Movement.
Speaking from Fiji about the move to Cambridge, Richard said: "I am very excited to take up this role at Wesley House. It's a big move for us at this time of COVID-19, but I'm sure we'll feel very at home at Wesley House. I look forward to working with a diverse group of students working on their fascinating research topics and in offering a theological perspective on issues of public concern through the  Centre for Faith in Public Life."
Richard and his wife Ruby will be joining the Wesley House community. Ruby, an Anglican originally from Ghana, works globally as an independent development consultant with special interests in deliberative democracy and peace-building. We look forward to welcoming them as soon as COVID-19 travel restrictions allow.