Tim Macquiban

The Revd Dr Tim Macquiban is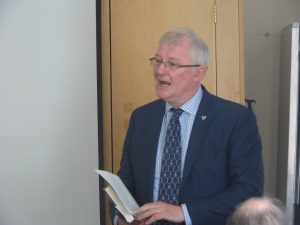 immediate past British Co-Chair of the Oxford Institute of Methodist Theological Studies, and is a member of the World Methodist Council, serving on its Theological Education Committee.Tim is presently Director of the Methodist Ecumenical Office Rome and pastor at the Ponte Sant`Angelo Methodist Church. He serves as Co-Chair of the Baptist World Alliance/World Methodist Council International Dialogue. He was formerly Principal of Sarum College, Salisbury (2002-08), and Head of Church and International Relations/ Director of the Wesley and Methodist Studies Centre at Westminster College, Oxford (1993-2002) where he managed centres of theological education and taught particularly in the areas of church history, liturgy and spirituality and ecumenical studies. His particular research interests are in the areas of Methodism's response to the poor and the nature of Methodist identity in regard to ecclesiology and ecumenism. Tim teaches on our DMin programme.
You can contact Tim on tmacquiban@gmail.com
He has articles in the Westminster Wesley series (Applied Theology Press, Oxford), New Dictionary of National Biography and major Methodist periodicals.