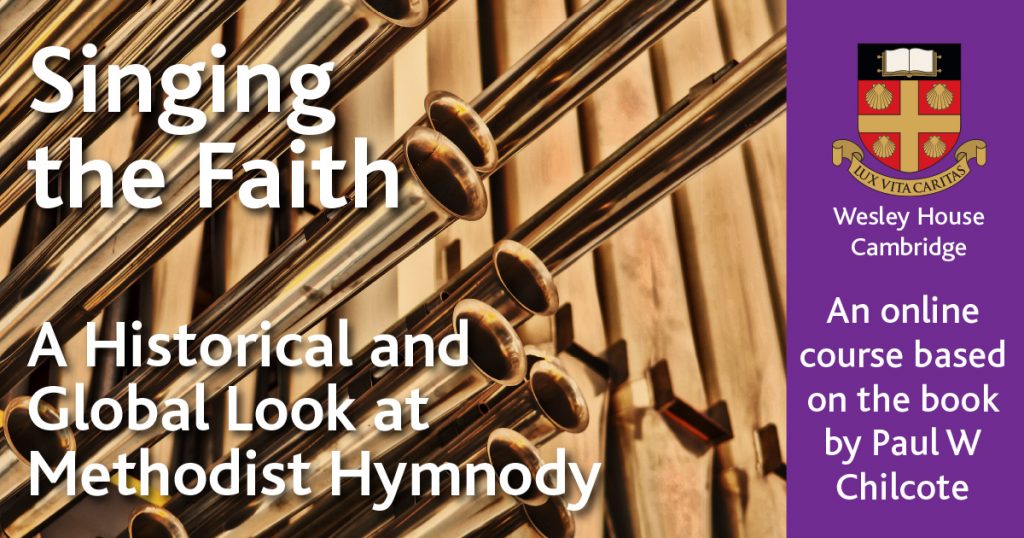 A historical and global look at Methodist Hymnody: An Online course based on the book by Paul W. Chilcote
Wesleyans and Methodists are a people who 'sing our faith'!
Some of the richest theological and devotional expressions of our faith come not through creeds but through hymns. While we look with appropriate reverence to Charles Wesley as the source of so many beloved songs, we are also part of a living tradition of hymnody that has grown and changed over time and includes voices from around the world.
Singing the Faith is an extended short course based on Paul W. Chilcote's book of the same name. Paul offers us the best of historic and global Methodist hymnody along with theological reflections on what it means to sing our faith. Join us ONLINE for this course to learn about new hymns and discuss the role of hymnody within the larger world Wesleyan movement.
Our presenters will be:
Paul W.Chilcote, until recently Director of the Centre for Global Wesleyan Theology at Wesley House
Anthony G.Reddie, Director of the Oxford Centre for Religion and Culture at Regent's Park College, Oxford
Martin Clarke, Head of Discipline (Music) at The Open University (UK)
---
COURSE STRUCTURE
Six 90 minute Zoom classes on Thursdays from October 2022 to June 2023 (7.30pm UK time)
27 October 2022 – FREE TASTER CLASS – Paul Chilcote – The Wesleys' Lyrical Theology (chs. 1-2)
24 November 2022 – To be confirmed – The Gospel Song (chs. 3-4)
2 February 2023 – Anthony Reddie – Black Methodist Song (chs. 5-6)
2 March 2023 – Martin Clarke – Fred Pratt Green (chs. 7-8)
18 May 2023 – S T Kimbrough – Global Praise (chs. 9-10)
15 June 2023 – Paul Chilcote – Conclusion
You can access a FREE copy of Paul's book Singing the Faith from Internet Archive – CLICK HERE
Participants who attend all six sessions may obtain Certificate of Completion after writing a 1,500 word reflection
COURSE COST
The 5 classes are either £10 per class or £40 for all
Book now at singingfaith.eventbrite.co.uk