Adam Ployd
Supervisor
ap2287@wesley.cam.ac.uk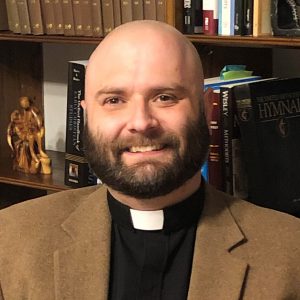 The Revd Dr Adam Ployd was Wesley House's Vice Principal from 2021 to 2023 and is currently Dean of Davenport College at Yale University. As a member of the Wesley House academic team, Adam supervises a number of PhD students.
Research and teaching interests
My interests range across both historical and practical theology. I am, by profession, a scholar of Augustine (354-430 CE), whose thought has, for better or worse, shaped the theology of western Christianity inescapably. From Augustine, I move to the general history of doctrine and practice – including Wesleyan theology – within the broader swath of Christian history. Ultimately, I do not wish this scholarship to be purely theoretical; rather, I believe such resources are crucial to the ongoing life of discipleship and ministry. Thus, I am also interested in practical theology that is robustly theological even as it attends to the practices of ministry.
Research students
I've supervised students from a range of global contexts including from Kenya, India, South Korea and the United States. The topics have combined my historical interests with present concerns such as, "The Pedagogy of Clement: A Model for Teaching Youth in the Reformed Church of East Africa" and "Francis of Assisi's Understanding of Animals as Inspiration to the Korean Churches."
Qualifications
PhD Emory University, Religion (Historical Theology), 2013
MDiv Candler School of Theology, Emory University, 2006
BA Wake Forest University, Religion, 2003
Recent publications
Augustine, the Trinity, and the Church: A Reading of the Anti-Donatist Sermons, Oxford University Press, (2015)
"Augustine's Martyrs as Ideal Christian Rhetors," Augustiniana (2021).
"Sir 34:30 and Forensic Rhetoric in Augustine's Conflict with the Donatists," Vigiliae Christianae 75 (2021).
"Augustine, Martyrdom, and the Exemplary Rhetoric of History," Journal of Early Christian Studies 28, no. 3 (2020): 423-441.
"What Makes a Martyr? The Movement for Black Lives and the Power of Rhetoric Old and New," Journal of Ecumenical Studies 55 (2020): 33-45.
"Inseparable Virtue and the Imago Dei in Augustine: A Speculative Interpretation of De Trinitate 6.4," Scottish Journal of Theology 72, no. 2 (2019): 146-165.
"'As the Catholic Faith Believes' (c. Sec. 5): Unigenitus as Pro-Nicene and Anti-Manichean in Augustine," Journal of Theological Studies 70, no. 1 (2019): 251-270.
"Non poena sed causa: Augustine's Anti-Donatist Rhetoric of Martyrdom," Augustinian Studies 49, no. 1 (2018): 25-44.
"Attending to the Word: A Concluding Look at Latin Patristic Preaching and A Vision for the Way Forward," in Preaching in the Patristic Era: Sermons, Preachers, and Audiences in the Latin West, edited by Anthony Dupont, et alia. Brill, 2018. 479-497.
"Participation and Polemics: Angels from Origen to Augustine," Harvard Theological Review 110, no. 3 (2017): 421-439.
"The Power of Baptism: Augustine's Pro-Nicene Response to the Donatists," Journal of Early Christian Studies 22, no. 4 (2014): 519-540.
"Pro-Nicene Prosopology and the Church in Augustine's Preaching on John 3:13," Scottish Journal of Theology 67, no. 3 (2014): 253-264.
"Thinking Historically," in Thinking Theologically, edited by Eric Barreto. Fortress, 2015. 63-78.
"Tres Unum Sunt: The Johannine Comma in Cyprian," Studia Patristica 65 (2013): 451-458.
"The Unity of the Dove: The Sixth Homily on the Gospel of John and Augustine's Trinitarian Solution to the Donatist Schism," Augustinian Studies 42, no. 1 (2011): 57-77.