Daniel Pratt Morris-Chapman
Research Fellow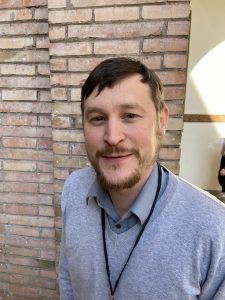 Daniel is a presbyter of the Methodist Church in Britain and has served in appointments both within the UK and overseas as a mission partner. He has been a lecturer in Cameroon (teaching African Philosophy, New Testament and Hermeneutics) where he was responsible for the administration of the candidates process for Presbyteral ministry. He currently serves in a bilingual intercultural church in Italy and serves as a member of the Liturgy and Worship Commission for the Federation of Protestant Churches there. His doctoral research was on the philosophical legacy of John Henry Newman (University of Bristol).
I want to facilitate the development of organic intellectuals in any way that I can. I am passionate about enabling theological education in contexts where the opportunities and infrastructure for higher education are limited.
Web presence
https://orcid.org/0000-0001-8954-5186
Research interests
Having served as a Methodist Mission Partner in several contexts, I am particularly interested in the social, political and economic dimensions of theology in Africa. I am currently writing a monograph on political theology in Cameroon. I have ongoing interests in Anglican/Methodist studies, the philosophical legacy of John Henry Newman and the epistemology of theology.
Supervisory Experience
I am currently supervising 3 students through Wesley House / Anglia Ruskin. I have supervised 3 students to completion at Masters level at Wesley University, Ondo, Nigeria. I have examined 8 students at Masters level in both Cameroon and Nigeria.
Research Students
Brian Robinson
Julian Pursehouse
Obusitswe Tiroyabone
Qualifications
BA Biblical Studies, University of Sheffield 2002-5
MA Theology and Ministry, University of Bristol 2005-2007
PhD University of Bristol, 2007-2015. "Scepticism Truth and Religious Belief in the Thought of John Henry Newman: A Contribution to Contemporary Debate?"
Recent publications
Pratt Morris-Chapman D J 2021. Newman in the Story of Philosophy: The Philosophical Legacy of John Henry Newman, Eugene, OR.: Pickwick.
Pratt Morris-Chapman D J. An Ambazonian Thelogy of Liberation: A Theological Response to the Anglophone Crisis in Cameroun (Forthcoming)
Pratt Morris-Chapman D J 2015. Ecclesia Ghana: Realising Afro-Catholicism in Ghana, Studia Historiae Ecclesiasticae, XLI (No.1): 86-104
Pratt Morris-Chapman D J 2016. Newman and the Problem of the Criterion Revisited, Newman Studies Journal XIII (No.1): 55-67
Pratt Morris-Chapman D J 2017. The Philosophical Legacy of John Henry Newman: A Neglected Chapter in Newman Research, New Blackfriars 98 (No.1078): 722-750
Pratt Morris-Chapman D J 2018. Is the 'Wesleyan Quadrilateral' an accurate portrayal of Wesley's theological method?, Theology and Ministry 5 (No.1): 1-17
Pratt Morris-Chapman D J. 2018. Canon, Criterion and Circularity: An Analysis of the Epistemology of Canonical Theism, HTS Teologiese Studies / Theological Studies, 74 (No 1): 1-9
Pratt Morris-Chapman D J. 2019. High And Low? The Heritage Of Anglican Latitudinarianism In The Thought Of John Wesley, Journal of Religious History, Literature and Culture 5 (No 1): 83-99
Pratt Morris-Chapman D J 2019. John Wesley and Methodist Responses to Slavery, Holiness, 5 (No.1), 37-58
Pratt Morris-Chapman D J. 2019. Towards an Ambazonian Theology, HTS Teologiese Studies  / Theological Studies, 75 (No 4): 1-11
Pratt Morris-Chapman D J. 2020. "H Newman" and Ludwig Wittgenstein: Re-evaluating Newman's Philosophical Reception, New Blackfriars 101 (no.1096):716-725
Pratt Morris-Chapman D J. 2021. The Meaning of Liberalism in the thought of John Henry Newman, Journal of Religious History, Literature and Culture 7 (no.1)
Pratt Morris-Chapman D J 2021. Pick Up Your Cash and Follow Me: Pentecostalism, Prosperity and Socioeconomic Empowerment in Southwest Cameroon, in J Bostic, I Mothoagae, T Tucker-Worgs (eds.), Black Religious Landscaping in Africa and the United States, Peter Lang, New York 2021, pp.167-181.
Pratt Morris-Chapman D J. 2022. More Authority than the Pope? Conference, The Deed of Union and Methodist Theology, Stellenbosch Theological Journal, 7 (No 1): 1-21
Pratt Morris-Chapman D J. 2022. Beyod the Quadrilateral, The Place of Nature in John Wesley's Epistemology of Theology, HTS Teologiese Studies  / Theological Studies, 78 (No 2): 1-11
Pratt Morris-Chapman D J 2021. Newman in the Story of Philosophy: The Philosophical Legacy of John Henry Newman, Eugene, Pickwick.
Pratt Morris-Chapman, D J 2021."Aldersgate Today? The Validity of Religious Experience in a Postmodern Age" Theology and Ministry 7 (No.1): 17-30 https://www.dur.ac.uk/theologyandministry/volumes/7/
Pratt Morris-Chapman D J 2021. Pick Up Your Cash and Follow Me: Pentecostalism, Prosperity and Socioeconomic Empowerment in Southwest Cameroon, in J Bostic, I Mothoagae, T Tucker-Worgs (eds.), Black Religious Landscaping in Africa and the United States, Peter Lang, New York, pp.167-181.
Pratt Morris-Chapman D J. 2021. The Meaning of Liberalism in the thought of John Henry Newman, Journal of Religious History, Literature and Culture 7 (No 1): 83-99
Pratt Morris-Chapman D J. 2020. "H Newman" and Ludwig Wittgenstein: Re-evaluating Newman's Philosophical Reception, New Blackfriars 101 (no.1096):716-725
Pratt Morris-Chapman D J. 2019. Towards an Ambazonian Theology, HTS Teologiese Studies / Theological Studies, 75 (No 4): 1-11 https://hts.org.za/index.php/hts/article/view/5371
Pratt Morris-Chapman D J 2019. John Wesley and Methodist Responses to Slavery, Holiness , 5 (No.1), 37-58 https://sciendo.com/article/10.2478/holiness-2019-0003
Pratt Morris-Chapman D J. 2019. High And Low? The Heritage Of Anglican Latitudinarianism In The Thought Of John Wesley, Journal of Religious History, Literature and Culture 5 (No 1): 83-99
Pratt Morris-Chapman D J. 2018. Canon, Criterion and Circularity: An Analysis of the Epistemology of Canonical Theism, HTS Teologiese Studies / Theological Studies, 74 (No 1): 1-9 https://hts.org.za/index.php/hts/article/view/5022
Pratt Morris-Chapman D J 2018. Is the 'Wesleyan Quadrilateral' an accurate portrayal of Wesley's theological method?, Theology and Ministry 5 (No.1): 1-17 https://www.dur.ac.uk/theologyandministry/volumes/5/
Pratt Morris-Chapman D J 2017. The Philosophical Legacy of John Henry Newman: A Neglected Chapter in Newman Research, New Blackfriars 98 (No.1078): 722-750
Pratt Morris-Chapman D J 2016. Newman and the Problem of the Criterion Revisited, Newman Studies Journal XIII (No.1): 55-67
Pratt Morris-Chapman D J 2015. Ecclesia Ghana: Realising Afro-Catholicism in Ghana, Studia Historiae Ecclesiasticae, XLI (No.1): 86-104 http://www.scielo.org.za/scielo.php?script=sci_arttext&pid=S1017-04992015000100007
Video of a recent lecture
https://www.youtube.com/watch?v=v2ZkW0_Mfvk&list=PLBjvlhg5XS_TEvt7Y2wRuI8lMCVgSmkLv