Appointment of Editor for the Holiness Journal
Wesley House Cambridge is pleased to announce the appointment of Joseph Powell as the Editor of our free online journal, Holiness.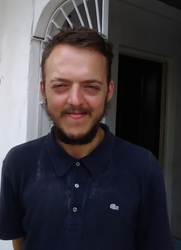 The Principal of Wesley House, The Revd Dr Jane Leach, said of the appointment: "We are delighted that Joseph will be joining the team in succession to The Revd Dr Richard Clutterbuck. We look forward to seeing Joseph build on the journal's success and taking it forward and deepening connections with individuals and communities the world over."
Joseph is in the finishing stages of PhD within the Faculty of Divinity at the University of Cambridge where his research primarily explores Rastafarian spirituality, theology and ecotheology. Joseph has had several articles been published in international journals including an examination of Rastafari dietary practices in Black Theology and an exploration of Rastafari attitudes towards Covid-19 in the Caribbean Studies Association Journal. During his time in Cambridge he also served as editor for the Faculty journal Noesis.
As well as his research Joseph serves as a disability mentor at Cambridge's Disability Resource Centre, a supervisor on several undergraduate theology papers at the University and also lectures at Newman University in Birmingham.
Joseph said, "I'm thrilled to be joining Holiness at such an important juncture in the journal's development and can't wait to get started aiding the world leading research within it reach as many as possible. The immediately warm and welcoming community within Wesley House I've had the privilege of experiencing thus far has made this all the more delightful!"