Medi Volpe
Director of Research
mav49@wesley.cam.ac.uk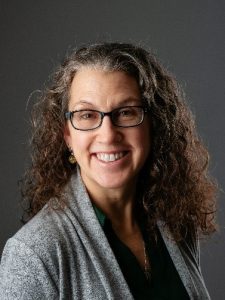 Personal Statement
My research interests in ecclesiology and ethics intersect in my work on Christian formation. I see ongoing theological education as an aspect of Christian formation, not separate from but integral to one's vocational and spiritual journey.
Role at Wesley House
My work at Wesley House includes supervising PhD students and managing the doctoral programmes.
Education
BA, Religious Studies and Anthropology, Occidental College, 1991
MA, Theological Studies, Fuller Theological Seminary, 1997
PhD, Theology and Ethics, Duke University, 2006
Selected publications & presentations
Books:
Rethinking Christian Identity: Doctrine and Discipleship. Challenges in Contemporary Theology Series. Oxford: Wiley-Blackwell, 2013.
The Oxford Handbook of Catholic Theology. Co-edited with Lewis Ayres. Oxford: Oxford University Press, 2019.
'The Lord's Prayer in the Life and Liturgy of the Church', in T & T Clark Handbook of Christian Prayer, ed. Ashley Cocksworth and John C McDowell. London: T & T Clark, 2022.
"Theological Anthropology," in The Oxford Handbook of Catholic Theology (Oxford: Oxford University Press, 2019), 361-372.
"The Paralytic's Gift: Worship and Disability," Journal of Disability and Religion 22 (2018): 146-156.
"Living the Mystery: Doctrine, Intellectual Disability, and Christian Imagination," Journal of Moral Theology 6/2 (2017), 87-102.
'"Let Your Light So Shine": Rowan Williams and Dietrich Bonhoeffer' with Jennifer Moberly, in Engaging Bonhoeffer: The Influence of Bonhoeffer's Life and Thought, ed. Matthew Kirkpatrick (Minneapolis MN: Fortress Press, 2016).
"The Virtue of Tenderness: David Foster Wallace and the Practice of Love," Church Life 3/4 (2015), 109-116.
"'Taking Time' and 'Making Sense': Rowan Williams on the Habits of Theological Imagination," International Journal of Systematic Theology 15/3 (2013), 345-360."Irresponsible Love: Rethinking Intellectual Disability, Humanity and the Church." Modern Theology 25/3 (2009), 491-501.
Presentations
"Eucharistic Living," invited presentation for the Liturgy and the Participation in Sacred History symposium, Center for Liturgy at the Institute for Church Life, University of Notre Dame, June 2018.
"Liberation theology and intellectual disability: What dare we hope?" paper presented at the Society for the Study of Christian Ethics annual meeting, September 2017.
"Holy Church: Living as the Body of Christ in a Secular Age," invited keynote presentation at the USCCB Reclaiming the Church for the Catholic Imagination conference, Institute for Church Life at the University of Notre Dame, October 2016: http://icl.nd.edu/conferences/pastoral-symposium-for-bishops-of-the-usccb-reclaiming-the-church-for-the-catholic-imagination/.
Students
I currently supervise three PhD students at Wesley House:
Zhongya Shao
James Labala
Memory Chikosi