Paul Chilcote
Interim Director of Global Wesleyan Theology
pc679@cam.ac.uk
.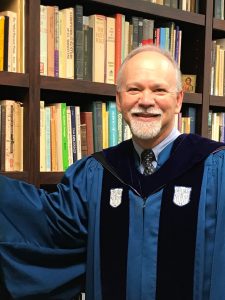 The Revd Dr Paul Chilcote is Wesley House's Interim Director of the Centre for Global Wesleyan Theology for the 2021/22 academic year. The Centre for Global Wesleyan Theology offers resources and research into aspects of Wesleyan theology and spirituality that continue to shape and to be shaped by the global realities of contemporary life.
My primary passions revolve around recapturing John and Charles Wesley's vision and bringing it to life for people of faith today. This quest spills over into the areas of Christian spirituality and discipleship, women's studies, and missional understandings of church.
Qualifications
PhD in Historical Theology, Duke University (1984), "John Wesley and the Women Preachers of Early Methodism;" Director: Dr Frank Baker
Post-graduate fellow, University of Bristol (1981-82), "Women in early Methodism;" Directors: Dr John H. S. Kent & Dr Rupert E. Davies
MDiv, magna cum laude, Duke University Divinity School (1979)
Honors BA in Theology & History, summa cum laude, Valparaiso University, Indiana (1976)
Recent publications
Praying in the Wesleyan Spirit: 52 Prayers for Today. Nashville: Upper Room Books, July 2001.
Her Own Story: Autobiographical Portraits of Early Methodist Women. Nashville: Kingswood Books, November 2001.
The Wesleyan Tradition: A Paradigm for Renewal. Nashville: Abingdon Press, May 2002.
Recapturing the Wesleys' Vision: An Introduction to the Faith of John and Charles Wesley. Downers Grove, IL: InterVarsity Press, January 2004.
Early Methodist Spirituality: Selected Women's Writings. Nashville: Kingswood Books, March 2007.
The Study of Evangelism: Exploring a Missional Practice of the Church. Co-edited with Laceye Warner. Grand Rapids: Eerdmans, February 2008.
Making Disciples in a World Parish: Global Perspectives on Mission & Evangelism. Princeton Theological Monograph Series. Eugene, OR: Pickwick Pub., April 2011.
The Works of John Wesley, Volume 13: Doctrinal and Controversial Treatises II. Co-edited with Kenneth J. Collins. Nashville: Abingdon Press, September 2013. [Responsibility for the Christian Perfection corpus – 2016 Smith/Wynkoop Book Award]
A Faith That Sings: Biblical Themes in the Lyrical Theology of Charles Wesley. Eugene, OR: Cascade Books, November 2016. [2017 Saddlebag Award]
The Methodist Defense of Women in Ministry: A Documentary History. Eugene, OR: Cascade Books, November 2017.
Women Pioneers in Continental European Methodism, 1869-1914. Co-edited with Ulrike Schuler. Routledge Methodist Studies Series. New York: Taylor & Francis Group, August 2018.
Singing the Faith: Soundings of Lyrical Theology in the Methodist Tradition. Nashville: Foundery Books, January 2020.
The Quest for Love Divine: Select Essays on Wesleyan Theology & Practice. Eugene, OR: Cascade Books, forthcoming.
"Deep Abiding Connection: Foundational Wesleyan Practices." 2017 Albright-Deering, Lecturer in Methodist Studies; Pittsburgh Theological Seminary, Pittsburgh, March 23
Deep Abiding Connection: Foundational Wesleyan Practices – YouTube
Research
As an historical theologian, my research interests lie in the broad arena of Wesleyan studies, with an emphasis on the contemporary significance of spirituality, discipleship, and mission in the life of the Christian community. The nearly 30 books I have published range from historical analyses of women in church and ministry to particularized studies in Charles Wesley and his lyrical theology, from the study of evangelism and discipleship in global perspective to definitive editorial work on John Wesley's published writings.
Supervisory Experience
Having spent most of my career as a theological educator in seminaries that prepare men and women for Christian ministry, my experience in supervision focused most specifically on DMin projects in Wesleyan practices at Ashland Theological Seminary in Ohio.
Research students
Daniel Haylett
Julian Pursehouse