Richard Clutterbuck
Research Fellow
rnc31@cam.ac.uk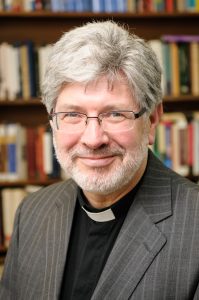 The Revd Dr Richard Clutterbuck is a presbyter of the Methodist Church in Britain with a wide range of experience in pastoral ministry and theological education. He has served a number of theological training institutions, in Oceania, Britain and Ireland – most recently as principal of Edgehill Theological College, Belfast. His post-graduate study was in ecumenical theology (Irish School of Ecumenics) and the place of doctrine in modern theology (University of Birmingham).
After a lifetime of ministry and theological education I am enjoying sharing in a truly international community of learning. I have a passion for Christian unity and so the ecumenical dimension of the Cambridge Theological Federation provides me with fresh opportunities for theological giving and receiving.
Web presence
https://orcid.org/0000-0001-7652-7309
Research
My research interests have been in the fields of Christian doctrine, Methodist theology, ecumenical theology and world (particularly Oceania) Christianity
Supervisory Experience
I have supervised PhD students at Queen's University, Belfast and at ARU/Cambridge Theological Federation. To date there have been four successful PhD completions and two MPhils.
Research Students
Hankyu Kim
Charles Lungu
Brian Robinson
Craig Wilson
Qualifications
PhD, Faithfulness in History: Moltmann and Schillebeeckx on the Development of Christian Doctrine., University of Birmingham, 1992
MA, Ecumenical Theology, Irish School of Ecumenics (awarded by Hull), 1980
Undergraduate, Theology, Birmingham University, 1977
Recent publications
Clutterbuck R. Doctrine and Change: Making Sense of the Story of Christian Doctrine, Grove Books, 2020.
"Sisters under the skin: surprising connections between the Catholic dogma of the Immaculate conception of Mary and the Wesleyan doctrine of Christian perfection", One in Christ, Vol. 50, No 1, 2016, pp133-150.
"Do we really need a doctrine of the atonement?" in Atonement as Gift: Re-Imagining the Cross for the Church and the World [Paternoster Press, 2014] , ed. Katie Heffelfinger and Patrick McGlinchey.
"Theological Education and the Search for Peace and Reconciliation in Ireland: the Experience of the Edgehill College Reconciliation Programme" in Building Communities of Reconciliation (Vol II), [nanumsa, 2012], ed. Richard Noake and Pauline Kollontai.
"How Great the Debt we Owe: Anselm's Cur Deus Homo and contemporary culture", Epworth Review (January 2009).
Handing On Christ: Rediscovering the Gift of Christian Doctrine, Epworth. Press, 2009
"Helpmate of a Self-sufficient God: the servanthood of Mary as obstacle or opportunity for the reconciliation of Christians – a dialogue with Karl Barth". Mary for Time and Eternity: Essays on Mary and Ecumenism, edited by William McCloughlin and Jill Pinnock, Gracewing, 2007
"Theology as interaction: ecumenism and the world church", Unmasking Methodist theology. Edited by Clive Marsh, New York and London, Continuum, 2004.