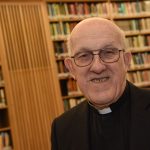 The Revd Dr
Brian
Beck
Fellow
The Revd Dr Brian Beck has a long and distinguished connection with the college, having first arrived as a student in 1955, returning after six years in theological education in Kenya to serve as tutor (1968-80), and also then as Principal (1980-4). Brian then went on to be Secretary of the Methodist Conference in Britain, and its President. From 1969 to 2007 he shared in the leadership of the international Oxford Institute of Methodist Theological Studies. Now retired, Brian teaches the theology and history of Methodism, and New Testament Greek. He looked after the college archives until further retiring in 2022.
Key publications of Brian's include:
Reading the New Testament Today (1977 & 1992),
Christian Character in the Gospel of Luke (1989),
Exploring Methodism's Heritage, the Story of the Oxford Institute (2004).
He has contributed articles to a number of publications, including Suffering and Martyrdom in the NT (1981) and the Ashgate Research Companion to World Methodism (2013).