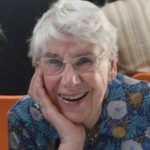 Professor
Morna
Hooker-Stacey
Fellow
Professor Morna Hooker-Stacey is Lady Margaret's Professor of Divinity Emerita in Cambridge, (1976-98). She is Methodist local preacher. She has also been Chair of the Wesley House Trustees.

She occupies a special place in New Testament study through her teaching and personal influence as well as her writing and editorial work. In 1988-9 she was President of Studiorum Novi Testamenti Societas, the international organisation for New Testament study.

Her scholarly interests lie in early Christian thought in the setting of Jewish biblical inheritance. Her early research resulted in two books, which challenged widely held scholarly views on the relationship of the teaching of Jesus with messianic prophecy, and she then wrote a series of studies which placed her among the foremost interpreters of Pauline theological thought.

In 2004 she was award the Burkitt Medal for Biblical studies by the British Academy.