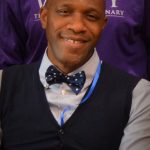 The Revd Dr
Calvin
Samuel
Fellow, Supervisor
The Revd Dr Calvin Samuel is a Methodist Minister serving in the Bedford, Essex and Hertfordshire District. Formerly Principal of the London School of Theology Calvin has already served as Director of the Wesley Study Centre, Durham, and Academic Dean of St John's College within the University of Durham. His previous appointments include New Testament Lecturer at Spurgeon's College in London and Chaplain to Farrington's School in Kent.

Born in Barbados and raised in Antigua before coming to Britain to study for a BA in Theology and Pastoral Studies at Nazarene Theological College in Manchester, Calvin went on to complete an MBA at Manchester Business School before pursuing PhD research in New Testament at King's College London.

Calvin's recent book, More Distinct: reclaiming holiness for the world today, introduces the reader to the concepts of sanctification, prevenient grace and eschatology and is anchored in the books of Leviticus, Job and Hebrews. His aim is to contribute not only to a fuller understanding of holiness, but also to developing a deeper holistic understanding of the Bible in his readers.

Calvin has taught on the DMin programme of Wesley House in recent years and supervises research students.