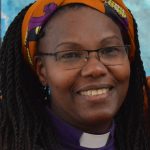 The Revd Dr
Alice
Muthoni Mwila
Research Associate
The Revd Dr Alice Muthoni Mwila is a Bishop in the Methodist Church in Kenya serving her second and last term in office. She was ordained in 2002 and has since then served as circuit minister, chaplain and superintendent minister. She served as a hospital chaplain for ten years in Maua Methodist Hospital and Meru University for seven months. Alice is also a member of the MCK Conference Standing Committee since 2006.

Alice did her PhD with Anglia Ruskin University in collaboration with Cambridge Theological Federation and completed in 2020. She holds a Master of Theology (MTh) in practical Theology from Queens University Belfast, a Bachelor of Divinity from St. Pauls University and a Bachelor of Arts and Social Sciences from Egerton University both in Kenya.

Revd Alice's research interest are in Practical Theology, particularly the practice, progress and future of Methodism in Kenya and Africa as compared to the upcoming Pentecostal oriented spirituality and the contemporary generations' religious demands. Revd Alice is also a member of The Circle of Concerned African Women Theologians, a pan-African ecumenical organization supporting scholarly research of African Women Theologians.