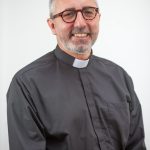 The Right Revd Dr
Keith
Riglin
Research Associate
The Revd Canon Dr Keith Riglin SCP is Vice Dean and Chaplain at King's College London, where he is also a Visiting Lecturer in the Department of Theology and Religious Studies. He also serves as Assistant Priest at St Anne's Church, Soho and as an Authorised Presbyter at Wesley's Chapel, London.

Ordained in 1983, Keith has worked in university chaplaincies in Bath and Cambridge (at St Columba's Church and at Wolfson College), as a Minister in Amersham, and as a Lecturer at the United Theological College of the West Indies. After 25 years serving Baptist and Reformed charges, he received Holy Orders in the Church of England in 2008, serving his title in a Notting Hill parish and community development project. Prior to his appointment at King's in 2012, he served briefly in the Diocese of Argyll and The Isles, of which he continues to be a priest. In March 2020 he was installed as an honorary Canon of St John's Cathedral, Oban.

Keith read education and religious studies through the Institute of Education, London, and theology at Oxford. He undertook post-graduate work (MTh) at Heythrop College, London, and completed his ThD thesis, in ecclesiology, at the University of Birmingham. He is a Fellow of the Royal Society of Arts (FRSA), an Associate of King's College (AKC), and a Senior Member of Wolfson College, Cambridge. He is Chair of the All Saints Educational Trust, Deputy Chairman of the Council and Governing Body of Regent's Park College, Oxford, and a Director of Ordinands in the Diocese of London.

He is a regular Tutor on the Oxford University Summer Programme in Theology (in association with the Graduate Theological Foundation, USA, of which he is a professor), and a frequent visitor to Ghana and the University of Cape Coast.

A long-standing member of the Methodist Sacramental Fellowship, Keith is particularly interested in ecclesiology and sacramental theology, and the application of theology and religious belief to public thought and practice.