Goodbye
Givemore Mashaya (1982- )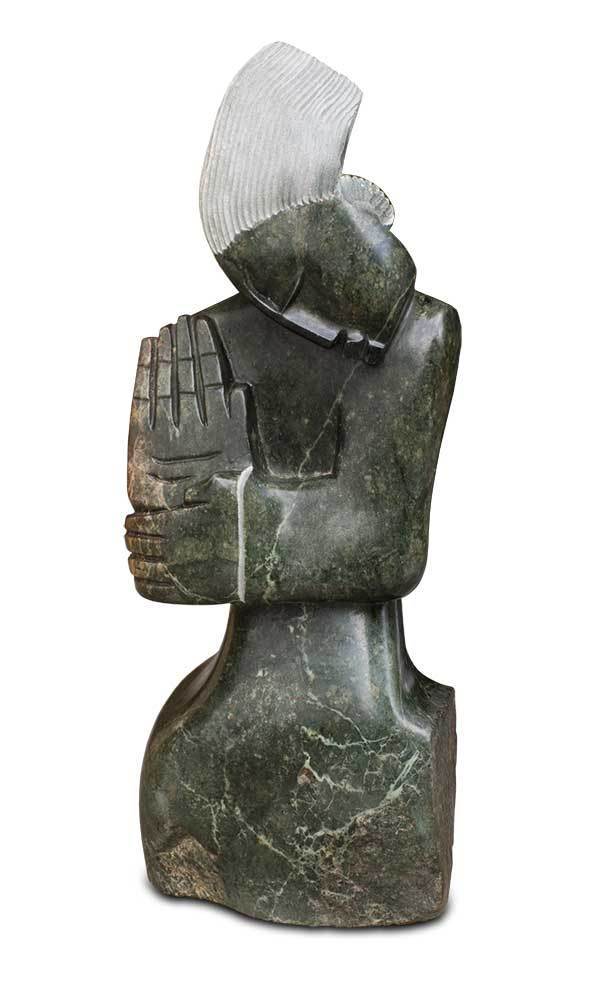 Givemore was born in 1982 in the beautiful mountainous village of Nyanga in Zimbabwe's Eastern Highlands. When he was a boy, he used to see his older brothers sculpting, and this inspired him. At the age of sixteen he began experimenting with sculpting, including making his own chisels by beating nails flat.  By 2000, Givemore's brothers were in Harare and becoming successful sculptors and Givemore decided to join them. Givemore was apprentice to Passmore Mashaya, who became his mentor and was particularly inspirational for the young artist. In Harare, Givemore met established artists Gideon and Agnes Nyanhongo, children of first generation artist Claud Nyanhongo, and he worked with them for some time and learned a great deal from them. From 2003 onwards, he worked on his own pieces and has forged his own reputation.
This sculpture is carved from green serpentine. The majority of stones used in Zimbabwean sculpture are locally sourced and belong to this family. They are sedimentary, having originally been laid down on a sandy seafloor, and metamorphic, since subsequent exposure to intense heat and pressure over hundreds of millions of years has transformed them into hard stone. In Zimbabwe, they occur as part of the Great Dyke, a horseshoe-shaped geological formation stretching through the north and east round to the centre of the country.
In the tradition of Shona Sculpture the subject depicts a mood and invites a relationship.  The origin of the word, 'Goodbye' is the phrase God be with you.  The position of the arms suggests a wave, but also blessing.
The work was purchased by the College in 2017 following a visit by the Principal to Africa University in Zimbabwe.