Gates, Stone Carving and Wood Carving
Kindersley-Cardozo Workshop,2016-17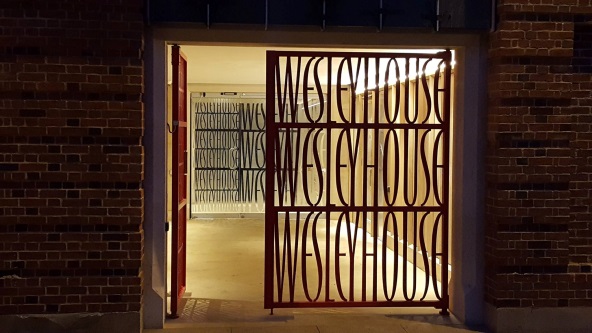 The gates, stone crest and college sign and the carving on the perching bench were commissioned by Wesley house for its rededication after major building works 2014-16.
The pieces were designed by Lida Kindersley who has run the workshop since the death of her husband David in 1995.  David had been apprenticed to Eric Gill and continued the revival of letter cutting that the workshop represents today.
The type face was designed by Lida Kindersley and is named Pulle, after her brother Paul who died in 2000.  The red of the lettering echoes the colours of the college rest which are sable, red and gold and represent a cross, the Bible and four scallop shells, the symbol of pilgrimage to Santiago de Compostela adopted by various Methodist bodies from the Wesley/Wellesley family coat of arms.
The college arms were granted in 1926. A carved version from 1930 is displayed in the college chapel.  These new works of art that enhance the 2016 gatehouse are a visible marker on Jesus Lane of the college's location and complement the Eric Gill lettering above Westcott House opposite.

The lettering on the bench inside the gates is a quotation from John Wesley: 'I look upon all the world as my parish.'  It was chosen by the Stanfield family to commemorate their missionary forebears who served in China and in Africa and to celebrate the international reach of the college. Read more about the Stanfield Memorial Fund here