Helen Cameron
Research Fellow
hc573@cam.ac.uk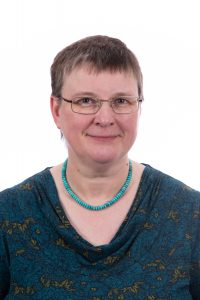 Dr Helen Cameron is a Research Fellow at Wesley House involved in doctoral supervision and supervisor mentoring.  She leads a Certificate programme in Enabling Skills for Ministry and Mission.  She was formerly interim Director of Doctoral Pathways. She is also a Research Fellow at Regent's Park College, Oxford where she co-leads Project Violet, participatory research into women's ministry in the Baptist community.
She is a practical theologian known for her work on congregational studies, social justice and theological action research.  She is secretary of the AVEC Resources Trust that promotes the work of Revd Dr George Lovell, a pioneer in Methodist approaches to church and community.
The church is in a constant process of reforming itself.  It needs those who remain curious about their ministry and are willing to examine it with theological rigor and practical compassion.  How that journey of renewal can be enabled remains a central focus of my work as a practical theologian.
Web presence
www.orcid.org/0000-0003-3888-5759
‪Helen Cameron – ‪Google Scholar
https://helencameron.academia.edu/
Research and teaching interests
As a practical theologian I am particularly interested in the connections between the pastoral, practical and political. I have written about research methods particularly participatory approaches. I have ongoing interests in congregational studies, gender and social justice. I am PI for a three-year research project on women in ministry using theological action research through Regent's Park College, Oxford.
Research Students
I have supervised students at Anglia Ruskin University, University of Oxford, University of Divinity, Melbourne, University of Manchester. I have 8 doctoral completions and have been an examiner in 19 doctoral vivas.
My Wesley House research students are:
Helen provides mentoring support for Wesley House supervisors.
Qualifications
Teaching in Higher Education – Part 1 from Open University, 1999
PhD, The Social Action of the Local Church: Five Congregations in an English City
Department of Social Policy, London School of Economics, 1998
MA, Public and Social Administration from Brunel University, 1992
Undergraduate, Theology from Keble College, University of Oxford, 1983
Recent publications
Cameron, H and Rogers, A.P (2023 forthcoming) 'Theological Action Research', in Lawrence, L., Smit, P.-B., Strømmen, H. and van der Walt, C. (eds.) Challenging Contextualities in Biblical Interpretation. Oxford: Oxford University Press
Cameron, H (2022) 'Church Organisation', in Ward, P. and Tveitereid, K. (eds.) The Wiley Blackwell Companion to Theology and Qualitative Research. Oxford: Wiley-Blackwell.
Cameron, H. (2022). From the Boy in the Temple to the Man on the Road: The maturing role of Practical Theology in the life of the Church. In Evangelicals engaging with Practical Theology: Theology that Impacts Church and World. H. D. Morris and H. Cameron. (eds) London, Routledge.
Morris, H. D. and H. Cameron, Eds. (2022). Evangelicals engaging with Practical Theology: Theology that Impacts Church and World. Explorations in Pastoral, Practical and Empirical Theology. London, Routledge
Cameron, H. (2021). Normativity in Practice: Governance in secular and faith-based non-profit organisations. in Reimaging Faith and Management. E. Pio and T. Pratt (eds). London, Routledge.
Cameron, H (2021) 'Mission enabling as a formative spiritual practice', Word and Deed, 13(2), pp. 25-31.
Cameron, H. (2015) Just Mission: Practical Politics for Local Churches. London: SCM Press
Cameron, H. and C. Duce (2013) Researching Practice in Ministry and Mission: A Companion. London: SCM Press
Cameron, H, J. Reader, V. Slater with C. Rowland (2012) Theological Reflection for Human Flourishing: Pastoral Practice and Public Theology. London, SCM Press.
Cameron, H, D. Bhatti, C, Duce, J. Sweeney and C. Watkins (2010). Talking about God in Practice: Theological Action Research and Practical Theology.  London, SCM Press.
'How can we engage with our context without idolising our context – an exploration of Courtney Goto and doctoral methodologies' at the Wesley House Research Seminar, Cambridge (27 May 2021)