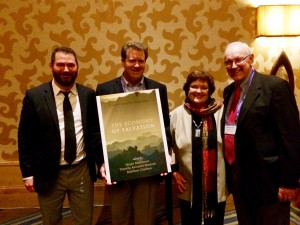 Jane writes:  it was a pleasure at the AAR to attend the Vanderbilt reception and to find that there was a short ceremony to honour the work of Doug Meeks who retires at the end of this academic year.  Douglas Meeks is the Cal Turner Chancellor Professor of Theology and Wesleyan Studies at Vanderbilt.  He is well known in Britain for his role in the Oxford Institute of Methodist Theological Studies and for his many lecture and study tours.
Doug is the author, co-author or editor of 16 books, including Origins of the Theology of Hope (Fortress) and God the Economist: The Doctrine of God and Political Economy (Fortress) and he has served on a variety of academic and ecclesial councils and commissions dealing with theology and economy, religion and science, liberation theology, points at issue between black and white theologies, and theological education.
The range and significance of his contribution to theology can be seen from the list of authors contributing to this collection in his honour including, Jürgen Moltmann.  Watch this space for details of how to get hold of a copy.