Certificate Course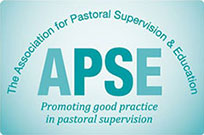 Initial training for those who have oversight of colleagues, team members or peers or who are interested to explore the skill set of a pastoral supervisor. Some may have already attended a basic skills course, but this is not a requirement. The aim of the course is to offer a learning experience where participants can explore the theory and practice of supervision, experience and reflect on what supervision is (and is not) and build confidence to practice the core skills of reflective pastoral supervision.  Creative methods and facilitated triads are part of the learning process.
This course provides 35 hours towards the APSE accreditation requirement of 70 hours training. The Diploma course provides the second 35 hours and the necessary skill development to operate professionally as a supervisor. Information about APSE accreditation routes can be found here.  It is not normally possible to take both the Certificate and Diploma courses in the same calendar year.
Students have included town centre chaplains, military chaplains, hospital chaplains, spiritual directors, local clergy, theological educators & CPE supervisors from the UK, Ireland, Kenya and Zambia including Anglicans, Methodists, Reformed, Roman Catholics and Salvationists.
"… it was a transformative experience. That was partly about being with a cohort of people where you did some honest open vulnerable stuff.  You journeyed together. And we used language of means of grace and I think that was an experience of God's grace." British Methodist Presbyter
'Varied to provide different ways of teaching and learning' Jim Rawlings, United Methodist Elder and CPE Supervisor
'Very helpful and portable to ministry.' United Methodist Local Licensed Pastor
---
Course details
The course consists of a taught component of either 5 intensive face to face days, or 7 days online for which an attendance certificate is provided to evidence continuing professional development hours.
Prior to the start of the taught component about 10 hours of preparation is needed.
Following the intensive days, or after the first 5 online days, participants who wish to receive the full Certificate need to both offer supervision and reflect with a supervisor on that practice, and complete the following portfolio of work:

A verbatim account of one supervisory session with a 2,000 word commentary reflecting on its processes
References from two supervisees
A reference from an Accredited Supervisor
3,000 word essay articulating the nature of reflective pastoral supervision and giving a rationale for its use in the participant's context. The essay should engage with the literature of reflective pastoral supervision and give examples of the benefits of reflective pastoral supervision from the participant's own experience.

We invite participants to join us for college worship during the course, should they like to..