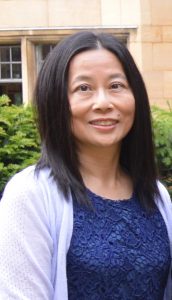 Susanna Chan from Hong Kong joined undergraduates studying modules on the Common Awards programme in the Michaelmas term of the 2017-18 academic year.  She took this opportunity to try academic theology for the first time after her children left home.
My Blessings in Wesley House

I came to the Wesley House to join some courses under the Common Award Programme in the autumn term of 2017.  To receive formal theology training has always been my dream but I could not do that earlier because of family responsibilities and job commitments.  Now with my children all in university, I thus have free time to take this opportunity to try out theology, to experience Cambridge, and to wait on God's guidance for the next stage of my life.

The academic studies are challenging as I have to wrestle with abstract concepts and to read serious works.  Yet after I have mastered some of them, it is fun really to stretch my cognitive abilities to analyse, integrate and arrange the ideas systemically in an academic essay.  At the same time, community life with a group of international students has opened my eyes to God's marvelous work in different parts of the world.  The hospitality of all the staff members of Wesley House made me feel at home very soon. They also deepened my understanding of British culture and the art of language.

On top of that, I have taken advantage of the academic environment offered by Cambridge.  I gained intellectual insight with talks on Nietzsche's Truth and Lying, Mathematics and Beauty of God, Physics and Faith, Post truth and Truth as well as with other seminars and luncheon discussions.  Evensong at Trinity College Chapel and the Advent Service at King's College Chapel filled me with awe and drew me close to God as I listened to voices of the angelic boys' choir and the grand organ music resonating inside the magnificent architecture.  Likewise, concerts of Handel's Messiah and Bach's Goldberg Variation performed at the College Chapels, with their excellent acoustics, gave me fresh appreciation of these great musical pieces.

Also, leisure walks along the serene River Cam sooth my soul.  Guidance from my spiritual director on the disciplines of stillness before God, appreciation of nature and listening to God unhurriedly is truly rewarding.  For the first time, I joined a three day-retreat at the tranquil All Hallows Abbey.  I was introduced to different methods of meditation, and I practiced using all my different senses to experience the presence of God.  At the retreat, never have I felt before that God could be so personal and that I could engage in such intimate dialogue with Him.  I realized that I should have more regular retreat in the future.

My stay at Wesley House was also filled with other pleasant surprises and niceties.  Coming from hot and humid Hong Kong, it was exciting to walk with snowflakes falling onto my face though I know now it is not that "romantic"!  Another great delight were traditional Christmas meals at a British family of Wesley Methodist Church, in the Minister's own home and at the Principal's Lodge.  Loads of food like turkey, Christmas pudding, desserts with pairing wine… but more importantly, the hospitality and fellowship of the hosts warms my heart.  Also, I got a bike to get me around Cambridge.  To pick up this teenager sport again after all these years has made me feel young and energetic.

The Wesley House experience is truly memorable and enriching. It has widened and deepened my relationship with God.  I really consider it a privilege to have this excursion of my life here and to be a member of the family of Wesley House.