Past event;
Drawing closer to God: exploring art in worship and theology
This online course is for all who are interested in exploring mainly contemporary art from a variety of sources including the prestigious Methodist Modern Art Collection. The course writer is Sarah Middleton, a freelance arts educator, Methodist Local Preacher and co-author of the ecumenically-produced 'Creative Spirit' DVD resource.
This course is for you if you are:
wanting to reflect on visual art that can enhance our prayers and services of worship
looking to develop skills in interpreting works of art in the context of doing theology
a church leader seeking opportunities to work with or commission practising artists
We will look at:
what is meant by so-called 'Christian art'
using images effectively, respecting good practice in reproducing them.
a painter in the Methodist Modern Art Collection and a drawing by renowned English artist Sir Stanley Spencer
carved wood and mixed media work inspired by global events, the natural landscape and New Testament narrative, with a focus on the passion and resurrection of Jesus.
The course runs for 6 weeks and requires approximately four hours of study a week. The first session is a free "taster" from Monday 20th April and is open to everyone who signs up. The remaining five weekly sessions start on 4th May 2020 and cost £150.
"The art works we studied were of high quality and capable of provoking responses of real depth" (a 2019 student)

Course Tutor: Sarah Middleton MA (Arts & Cultural Management)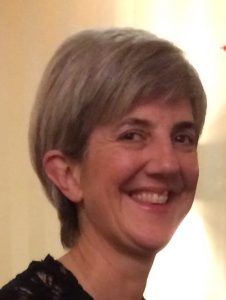 Sarah has worked for many years in the field of arts, mission and adult education, most recently as a Methodist Regional Learning Officer and Connexional Consultant. Her MA dissertation focused on the cultural value of the Methodist Modern Art Collection in 21st century Britain. She is a member of the Collection's Management Committee and has led ecumenical study days in connection with exhibitions and the themes of this course.