Past event
Walking the Story: resources for a personal pilgrimage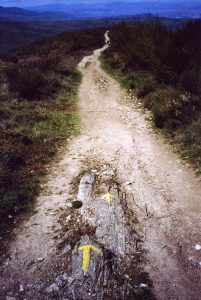 Based on the book by The Revd Dr Jane Leach about her experience of walking the ancient pilgrim way to Santiago de Compostela, this course will explore pilgrimage, its role in Christian spirituality and its relevance in Christian life today. Participants will be resourced make their own spiritual pilgrimage and to reflect upon some key questions for contemporary Christianity.
Themes include:
Welcoming the stranger
Church as guest and host
Christ the pilgrim
The Christian story in a postmodern context
Connecting with Creation
'I feel I am now better prepared spiritually to discover deeper truths about myself, loss/suffering, love, the presence of God, strangers/friends and the world we inhabit when I embark on the physical Camino pilgrimage next year.'

Walking the Story participant
The pilgrimage has been a privilege to share, it has begun to open up the questions I came with and make them less fearful.
---
The course will be tutored by Johannah Myers, Director of Christian Formation at Aldersgate United Methodist Church in Greenville, South Carolina.
The course will run for 8 weeks, commencing on 16th September 2019. We ask that you give around 4 hours per week to our online courses, which can be done at times to suit you; you do not need to be online at particular times.