The Chapel
The College is built around the beautiful original chapel with its oak panelling, oak pews, Robert Spurden Rutt organ and stained glass window.  Since 1930 this has been used for daily prayers and for larger services to mark the start and end of each team.  The chapel is at the heart of the common life of the College and seats up to 60 people.  For information about chapel life visit our prayer space.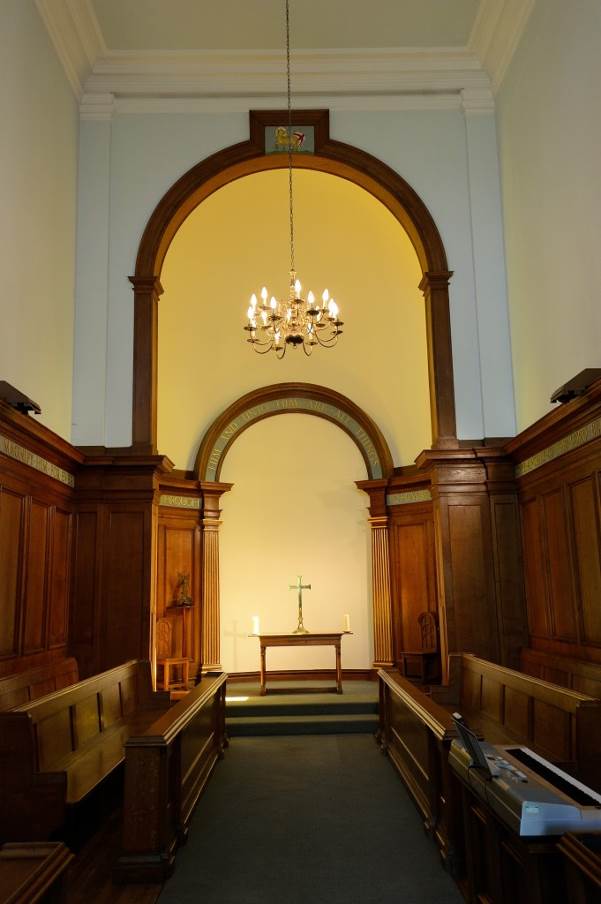 Translation of the Memorial Tablet
In memory of Williamson Lamplough, a faithful servant, a fellow bond-servant in the Lord, and a most beloved brother. His brother caused this house of prayer to be built in the year of our salvation 1930.
---
HOLY CITY WINDOW IN WESLEY HOUSE CHAPEL
According to Mrs Maldwyn Hughes' manuscript memoir in the College archives the west window in Wesley House Chapel was given in 1933 by Michael Gutteridge to complement the murals (now lost) by Harold Speed. The chapel itself (and presumably the murals) were the gift of E S Lamplough in memory of his brother Williamson, as the inscription over the door states. Mrs Hughes states the artist to have been 'Reginald Bell of Marylebone' and there is no reason to doubt this attribution.
Reginald Bell (1886-1950) was in fact a leading glass painter of his time. His grandfather founded the stained glass firm of Clayton & Bell, but he preferred to work on his own. There are windows of his in York Minister and cathedrals at Exeter, Truro, Norwich, Bury St Edmunds, Toronto and Manila, and in St Mary's Hall Coventry as well as in parish churches in Norfolk, Hampstead and elsewhere. Other locations include Somerville College Oxford, Beaulieu Abbey and Harrow School. He had work at the British Government pavilion at the Brazilian Centenary Exhibition, in the roof of the British Pavilion at the Wembley Exhibition, and at the Paris Exhibition, where he won a gold medal.
Samples of his work can be seen on the web by Googling 'Reginald Bell', and there are illustrated obituaries (one unsigned but both clearly by M C Farrar Bell) in The Studio Vol. 141, 1951, pp.148-151, and The Journal of the British Society of Master Glass Painters Vol. 10.4, 1951, pp. 214f., from which this note is taken.
The Wesley House window does not appear to be listed in any of the works on stained glass, and is little known in consequence, but it is clear that Gutteridge in his choice of artist went for quality. The design depicts the heavenly city of Revelation 21-22, without street lights (see Rev.21:23-5), but with a harbour light to guide travellers to it. Surprisingly there are no people. The general effect well illustrates the saying attributed to Bell, reacting against some of the dark Victorian work, 'The chief purpose of windows is to let in the light.'