The Very Revd Mrs Doris Abena Saah
PhD student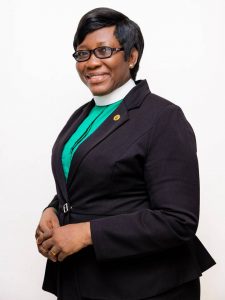 Doris Saah is a Minister of The Methodist Church Ghana presently stationed in the Accra Diocese as its first female Synod Secretary and also the first female to serve as a Recorder of the Methodist Conference in Ghana. She has been an Ordained Minister for seventeen years and has over the period, had the privilege to serve in the various ministries of the Church including the Children's, Youth, and Adult Ministries in different capacities.
She is the immediate past Superintendent Minister of the Kokomlemle Circuit and Chaplain of the Accra Diocesan Women's Fellowship having served as the Secretary of the Accra Diocesan Fellowship of the Kingdom, a gathering of Ministers of the Gospel.
Doris has great love for Evangelism, Discipleship and Counseling. Her passion for Evangelism has taken her to many schools, hospitals and Police Cells to share the Good News of Jesus the Christ. She has also engaged in street and marketplace evangelism and served the Ghana Evangelism Fellowship for more than a decade before entering the Ordained Ministry of The Methodist Church Ghana.
She holds a Master of Philosophy and a Master of Arts in Religions, all from the University of Ghana, Legon. She also has a Bachelor of Theology and a Diploma in Ministry all from the Trinity Theological Seminary, Legon. She is presently pursuing a Doctorate Degree programme at ARU, Wesley House, Cambridge. Her thesis is on 'Prayer and the Prophetic: A Case Study of Methodist Prayer and Renewal Programme of The Methodist Church Ghana'.
Doris is married to Joseph Guggisberg Saah with whom she has three biological children and two adopted sons who are all actively involved with church activities.