The Revd Obusitswe Tiroyabone
PhD student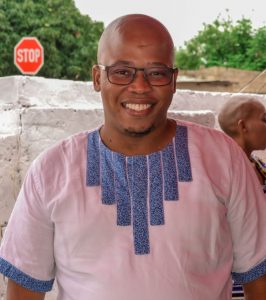 Current situation
Obusitswe is an ordained Presbyter in the Methodist Church of Southern Africa, stationed in the Mbombela Circuit of the Limpopo District. He serves in a church in the city centre of the capital city of the Mpumalanga Province.
Research Area
Reading Philemon from the Margins: an African Post-Colonial Hermeneutic
This study is a post-colonial reading of the Philemon text from the margins. Obusitswe uses the Tripolar exegetical method to interpret the letter from his own context and illuminate the meaning of the text. The method brings together Obusitswe's South African political and socio-economic context and the political and socio-economic context of Philemon (the recipient of the letter), Paul (the author of the letter) and Onesimus (the subject of the letter) into appropriation. The study will at the end contribute to a discourse in African biblical scholarship.
Publications
"Reading Philemon with Onesimus in the Postcolony: Exploring a Postcolonial Runaway Slave Hypothesis" Acta Theologica Supplementum 24 (2016), Pgs. 225 – 236
"Grant me Justice! Reading the Chronicle of the Ordination of Women in the MCSA as the Making of a Patronage Ministry", Studia Historiae Ecclesiasticae Vol 43, No 3 (2017)
Supervisory team
Dr Daniel Pratt Morris-Chapman
Professor Gerald West