The Revd Jonathan Oppong
PhD student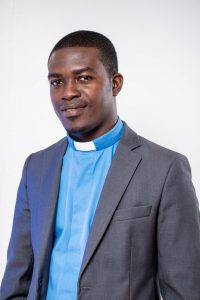 The Revd Jonathan Amankwah Oppong has served as a Minister of the Methodist Church Ghana since 2015. He is currently the minister in charge of the Youth Development Ministry in his diocese and very passionate about raising the next generation of young leaders in the church and society.
Jonathan has completed two Masters Research programs; MPhil (2009) and MDiv (2015) from two different disciplines (Zoology and Theology respectively), which has enhanced his research skills and abilities. Participating in an Interreligious Dialogue in Jerusalem in 2019 opened his desire to do more theological research work. Coming from a country and continent where there is a recent upsurge in the operation of many false doctrines plaguing the church, there is the need for theologians and ministers of the Gospel in our nation and continent to teach and practice the true principles and doctrines as clearly taught by the Holy Scriptures.
The focus of his PhD research is to delve into the doctrine of the Eucharist to provide guidelines on its inclusivity in building Christian fellowship among all believers. The outcome of this research will help him contribute his thoughts to the African voices on developing an African Christian Theology which speaks to the African mind and heart.